Panoramica
OBEX MT P1 Terminal provides also the performance of a P2 Terminal and offers class leading performance with its modular configuration. The design of the product has been developed to provide the safest performance to terminate and anchor guardrail where speed limits of up to 80 km/h apply.
It behaves much like a crash cushion in how it absorbs the energy of vehicle impact with the compression of its unique energy absorbing steel cellular sections. The modules are anchored with a H-section post that is stabilised by the tension resistance of anchored steel wire rope.
OBEX MT P1/ P2 Terminal is tested in accordance with EN1317 part 4. It is a fully upright terminal and is available in both single and double sided applications i.e. both for verge and median situations. Steel sections are to grade S275 and S235, galvanised to EN 1461 and connected with grade 8.8 bolts. OBEX MT P1/ P2 is suitable for connection to both 2-Wave and 3-Wave corrugated beam guardrail systems. The OBEX Modular Terminal design concept is unique, innovative and covered with a Patent Pending application (UK No. 1421308.6).
OBEX MT deve essere installato da installatori OBEX formati e certificati solo in conformità con il Manuale di installazione OBEX. Un corso di formazione approvato da LANTRA è disponibile presso Fencing and Construction Training (FACT) Ltd. Contatta Sybil o Tim al +44 (0)121 476 4731 o sybil@fctrain.co.uk / tim@fctrain.co.uk per prenotare un corso.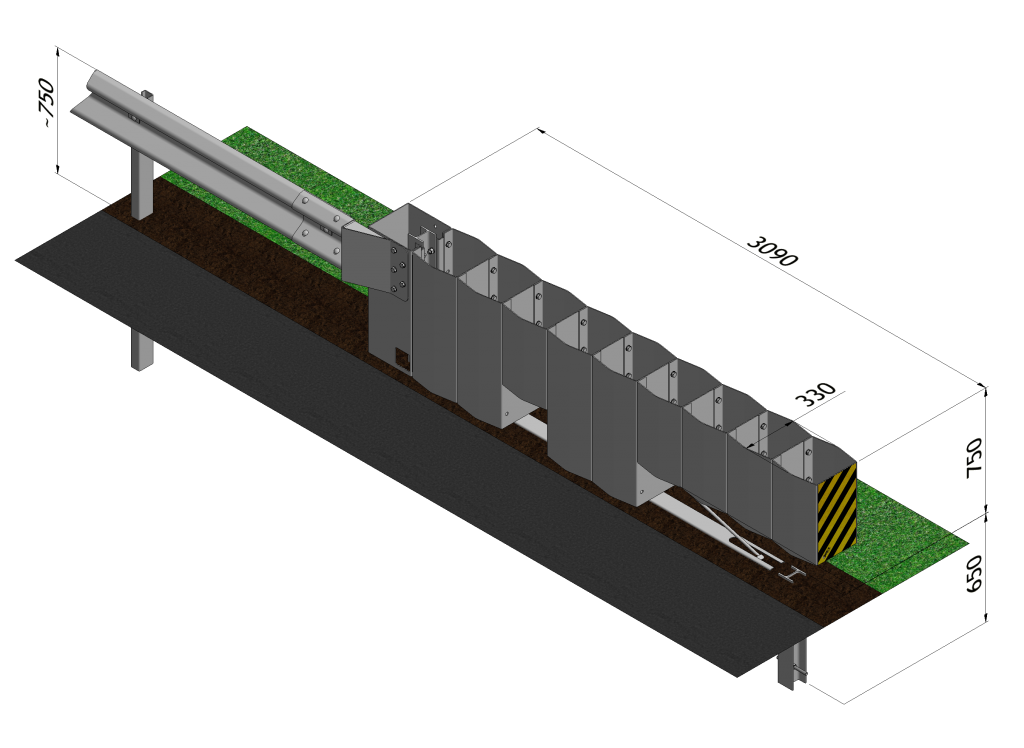 Prestazione
Classe di prestazione
P1/ P2
Indice di gravità dell'accelerazione "ASI"
B
Spostamento laterale permanente
x1,y2
Zona di spostamento permanente Permanent
S 0,5; T 2.0; U0.5
Classificazione casella di uscita
Z1
Specifiche di prova

TT 1.3.110

TT 2.1.100

TT 3.3.110
Dimensioni
| | |
| --- | --- |
| Altezza | 1090 mm |
| No. di rotaie | 3 n. |
| Larghezza complessiva | 400 mm |
| Larghezza palo | 200 mm |
| Centri postali | 3m |
Vantaggi
Upright end terminal configuration i.e. avoids vehicle flight/ overturning hazard associated with "rampdown" terminals
Shock absorbing modular components provide crash cushion performance with no risk of residual hazard
Fully tested to EN 1317 Part 4
For use in Single or Double-sided applications
Simple modular components can be pre-assembled for rapid installation
Overall length minimised to 3m and only 2 posts to be anchored in soil/ pavement
Durable components hot-dipped galvanised
Modular components can be easily replaced if vehicle impact causes minor damage only