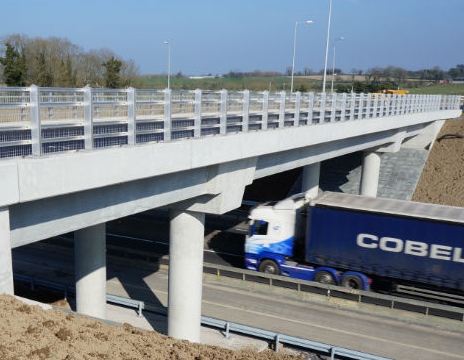 OBEX Systems recently supplied a high containment aluminium parapet system at a new interchange for Motorway Services at Kilcullen, Co. Kildare. This is the first of its kind where an all-aluminium parapet system that is tested to H2 high containment in accordance with EN1317 has been installed anywhere in the world. This marks a significant move by the road authorities towards specifying high containment requirements for parapets in such applications.
The OBEX Line provides an aesthetic, durable and lightweight solution for bridge parapets and in particular, is an ideal solution for parapet upgrades as the aluminium performance mitigates excessive load transfer to bridge decks designed for normal containment capacity.
OBEX Line is configured as a four rail system with posts at 1.5m centres and is the result of extensive design modelling of the OBEX Line range where full-scale laboratory crash testing of this product involved impact tests from both a small car and a thirteen tonne bus. This parapet is rated as H2BW4 to EN1317 part 2 and is CE marked.
The new junction is located on the M9 Dublin to Waterford motorway and is part of an overall development to provide fuel and dining services as part of a national strategic framework.